Fractional Distillation Equipment 50-1000 Liters
B/R International offers a full range of steel and stainless steel fractional distillation systems. Steel is an ideal material of construction for areas that require a rugged fractional distillation system.
High Efficiency: More than just another simple distiller made of metal. The B/R 9700 is metal distillation apparatus equipped with a stainless steel packed column. The packed column can produce a much higher purity distillate than simple distillation. The result is high purity products in a rugged distillation system.
Customized for your Application: B/R 9700 metal fractional distillation system can be configured according to your needs. Automation, vacuum systems, fraction collectors and other accessories can be integrated into the distillation system as needed. The result is a fractional distillation apparatus customized to your specific needs.
Easy to use: Microprocessor control fully automates the distillation process from beginning to end, minimizing the time needed to operate the equipment. Easy programming of parameters makes you feel like a distillation expert. Heating, collecting of distillate and shut down of the equipment at completion are all done automatically. Manually operated equipment is also available for customers on a limited budget.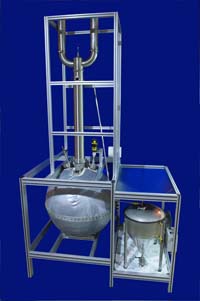 Common applications include:
Crude Oil and Petroleum Distillation
Flavor and Fragrance Distillation
Solvent Recycling and Solvent Upgrading
Vacuum Distillation
Many Other Applications